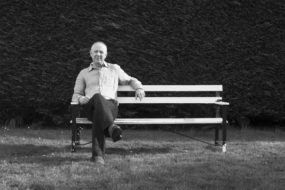 Hugo Hamilton is the author of many novels as well as an acclaimed memoir, The Speckled People, described as an 'instant classic' and translated into twenty languages. That book told the heartbreaking story of life as a child in a household torn apart by the "language wars". Hugo's mother was German and she fled her  shattered home after the Second World War. His father was from West Cork and saw himself and his family as pioneers who were going to shape the new Ireland.
In this Loopline Film documentary, Hugo Hamilton – Croí agus Teanga, we go on a journey between Ireland and Germany to discover the experiences that have shaped Hugo in his life and as a writer.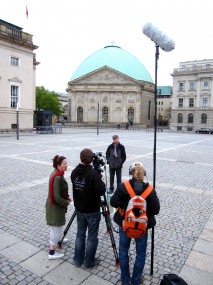 He recalls what it was like to grow up with a fractured identity, in a house where English was expressly forbidden and the two languages spoken were Irish and German. The punishment for speaking English was severe. Some of the experiences the children had are almost unbelievable to look back at now. They wore lederhosen sent over from Germany with Aran jumpers that his father insisted upon; they were ridiculed when they went out into the street.
Many times, Hugo and his brother were put on trial as Nazis by the local kids. At the same time, they spoke Irish in an English-speaking city and this was considered a reason to mock them also. All of these experiences left him with a confused sense of who he was. This film, directed by Martina Durac,  is an exploration of how an individual finds his personal sense of home and Hugo looks back at his life, his work and the complex relationship he had with his languages – Irish, German and English – as he examines how he got through the language war of his childhood.  He says now that he feels he had no choice but to become a writer in order to make sense of his past.
The film also follows Hugo to West Cork, the birthplace of his father where Hugo reflects on the difficult relationship they had with each other. He makes the emotional journey back to Kempen in Germany, his mother's hometown, to meet with cousins and his aunt who shed light on life there after the war and his mother's move to Ireland. We follow him to his second home, Berlin, a city like no other in Europe and a place that continues to influence and colour Hugo's writing. Throughout the film, Hugo grapples with the nature of identity and its influence on his work, which he explored so beautifully in his memoir The Speckled People.
" I cannot undo what happens in life, but I can offer it as a story, and that's what I do in every book I write".
Director:         Martina Durac
Producer:        Vanessa Gildea
Photography: Patrick Jordan
Editor:             Genevieve Murphy
Colourist:        Nicky Dunne
TG4
26TH OCTOBER @ 9.30PM  on TG4
&
29TH OCTOBER @ 10.15PM on TG4