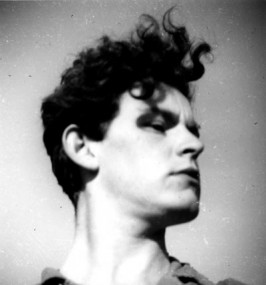 Patrick Scott is considered to be the Godfather of Irish modern art. 'Golden Boy' tells of Scott's extraordinary life. The film begins at the Hugh Lane Municipal Gallery who honored him with a major retrospective of his life's work. The film features his great friend Seamus Heaney and Bruce Arnold. There is a wonderful music score by Kieran Kennedy. The other stars to feature are his best friends, his cats!
Scott was an early member of the White Stag Group, which was formed by refugee painters in Dublin during the emergency years of World War II. After the war he worked as an architect but quit in the early 1950′s but his work can be still be seen in building like 'Busarus" which he designed for Michael Scott.
In the early fifties Scott quit architecture to become a full time painter. He won the Guggenheim Award in 1958, then became the first living Irish artist to have a painting bought by the Museum of Modern Art in New York.  He was chosen to  represent  Ireland at the Venice Biennale in 1960. One of the early modernists, he is particularly well noted for his Gold paintings which he started in the 1960′s and continues to this day.
The producers of the film Maria Doyle Kennedy and Andrea Pitt invited the Sé Merry Doyle to direct project and after its completion 'Golden Boy' had great success at festival screenings and on RTE television.
Patrick still operates from his Dublin studio on Baggot Lane and is currently finishing a tapestry for the Mater Hospitals children's wing.